Is the curtain falling on the eurozone?
(Read article summary)
The eurozone will be a different place from what it is today, even if EU leaders take the serious steps necessary to tackle the eurozone's debt problem.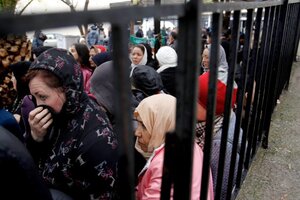 Petros Giannakouris/AP
Milton Friedman, never a fan of the eurozone, predicted it would collapse in 10 years. Now entering its 13th year, the currency union is facing its most critical challenge. And at the Nobel -winning economist may turn out to be right on everything except the exact timing of the dissolution.
The reason? European leaders continue to miss the mark in their assessment of the root cause of the continuing crisis. To paraphrase Bill Clinton: It's the debt, stupid.
Earlier this month, European lawmakers held the latest in a string of emergency summit meetings to deal with the worsening crisis. Many billed it as the last chance to save the euro. If this is the standard by which the outcome is to be measured, the meeting was an abject failure.
The plan of action European officials positioned as the salvation of the euro consisted of an agreement to draft a revised treaty giving central European Union authorities greater control over how sovereign nations manage their budgets. The participants also agreed that EU central banks would lend another €200 billion ($262 billion) to the International Monetary Fund. This money would then be used by the IMF as part of the European Stability Mechanism to support the handful of countries struggling to remain solvent.
---