In budget battle, voters are the 'adults in the room'
(Read article summary)
Politicians on both extremes think voters want stubborness in the budget battle. They're wrong.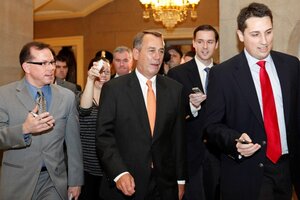 Jacquelyn Martin/AP
Congress finally broke the impasse over a temporary extension of the payroll tax in 2012, but it remains deadlocked over the big policy changes needed to get our government's finances back on an economically sustainable track. Each side blames the other: Democrats refuse to work with Republicans who are entrenched in a "no new taxes" stance; Republicans counter that Democrats' fondness for "class warfare" policy ideas will kill the economy.
Politicians on the extremes of both sides seem to believe their stubbornness is just what the voters want from them. But they are wrong.
Republicans argue that the federal budget problem is almost entirely a "spending problem" justifying mostly spending-side-only solutions. They claim that any revenue increases, but especially those burdening the richest households, would kill the economy by taking away any incentives for business expansion. The theory is that the "small" businesses owned by millionaire entrepreneurs – labeled by Republicans as the "job creators" of the economy – will reduce hiring if their tax burdens go up.
But National Public Radio's Tamara Keith recently looked for these millionaires who would stop hiring because of higher taxes, and she couldn't locate anyone willing to support that theory – not even when she went to the Republican politicians who are most vocal on that claim.
So NPR hunted down its own millionaire "job creators" and found some who said that even faced with higher taxes, they would still have an incentive to maximize their profits, expand their businesses accordingly, and yes, keep hiring more workers. As one of these millionaires explained:
"Like any other American, especially a business owner, I want to make as much money as I can and I want to keep as much money in my pocket as I can, but I also believe in the greater good," says Deborah Schwarz, who owns LAC Group, an information management firm with offices nationwide and in London.
---