New Year's resolution (and modern fable): Spend more!
(Read article summary)
In Aesop's ancient Greek fable of the ant and the grasshopper, the ant was right: Save for a rainy day. New Year's resolution for America in 2012: We need more grasshoppers.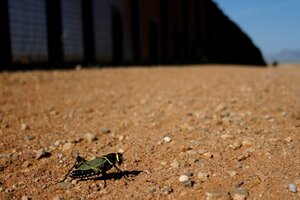 Joshua Lott/Reuters/File
Perhaps you remember Aesop's fable about the ant and the grasshopper. The diligent ant works tirelessly through the summer, storing food for the winter, while the grasshopper lays about munching on grass, and worse, making fun of the ant for his work ethic. When winter comes, the ant survives on his stores, and the grasshopper starves to death, having learned the lesson we now translate as "saving for a rainy day." But that 6th century BC fable from Greece doesn't fit the 21st century AD economy in the United States. My research, encapsulated in a new book "Against Thrift," suggests we need to spend our way out of the current slump. If the ant and the grasshopper compared New Year's resolutions today, say, in a New York coffee shop, their conversation might go like this:
Grasshopper: You going to sell the brownstone?
Ant: You know I can't, the housing market is that bad. And I'm close to underwater, anyway. I can't retire on debt. How about you?
G: There's not much in my retirement account, not enough to live on, even with Social Security. I'm still in debt, too. Borrowed to send the boys to school.
A: I saved and you spent, and here we are. It's nearly winter and we're both broke.
---