Davos meeting: Gloomy about economy, worried about capitalism
(Read article summary)
The annual World Economic Forum in Davos, Switzerland, will discuss not only the Europe's debt woes but also the future of capitalism. Even some billionaires in Davos are worried about income inequality.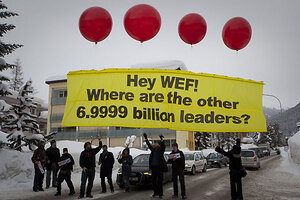 Anja Niedringhaus/AP
If the annual gathering of world leaders, corporate chieftains, and economists in secluded Davos in the Swiss Alps is a good barometer of the global economic outlook, then the reading this year is gloomy.
The European debt crisis dominates the conversation, of course. But the outlook everywhere seems to suggest a global slowdown. "The global recovery is threatened by intensifying stains in the euro area and fragilities elsewhere," concluded a report from the International Monetary Fund, which cut its 2012 forecast of world growth from 4 percent to 3.25 percent.
Beneath the gloom lies a broader worry among many participants that capitalism is failing to provide the widespread economic benefits that it used to.
"Capitalism, in its current form, has no place in the world around us," Al Jazeera quoted economist Klaus Schwab as saying. Mr. Schwab is founder of the World Economic Forum. The WEF's theme this year – The Great Transformation: Shaping New Models – may be adding to the angst.
---