Corporate boards are missing the big picture – and profits
(Read article summary)
Boards of directors need to maximize value for stakeholders, not just shareholders. Why? It's good business.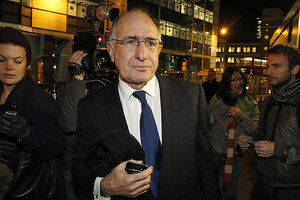 Luke MacGregor/Reuters/File
A board member of a Fortune 100 company told me recently that he wouldn't "spend a cent on Facebook." I asked if he meant he wouldn't buy something via social media. "No," he said. "I wouldn't support my company making investments to use such websites to advance our business."
I didn't break it to him that Facebook is free of charge. I did confirm that I did not own any of his company's stock. Corporate boards are imperiling profits by ignoring social media, and ignoring social trends.
Maximizing shareholder value has been the mantra of corporate boards for at least the last two decades. But the ways to boost profit have changed dramatically in that time, and boards are struggling to keep up.
In search of growth, businesses have gone global, leading to greater involvement with local communities and thorny questions of fairness and responsibility. Evidence of a link between climate change and human activity continues to mount. Citizens worldwide are demanding change from regimes in both the public and private sectors. Today, corporate boards should represent the best interests of all these stakeholders, not just shareholders. There's a moral reason to do this: Global society loses by not having its environmental challenges and social equity problems addressed by one of its most dynamic instruments for change. But there's also a financial imperative.
Embracing sustainability is linked to higher profits. Instead of viewing environmental and social challenges as costs, companies need to view them as markets with unmet needs. Smart boards see that now is the time to modernize in order to lead their companies to new heights of prosperity.
How can boards modernize their thinking? Here are three recommendations:
---