US recovery real – but vulnerable
(Read article summary)
US recovery could get derailed by recession in the eurozone, a slowdown in China, or both. Both threats loom large over the nascent US recovery.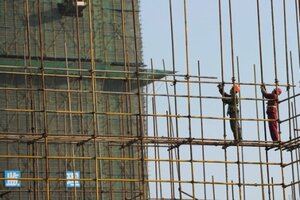 Reuters
While the gains so far may be modest, evidence suggests the US recovery is gathering strength and could finally be on track to regaining its old form. Unemployment is at a three-year low and consumer spending is slowly starting to rise. But there are concerns that two events outside the United States could put an end to the recovery before it can get truly established.
Of the two external threats, the growing risk of recession in the eurozone is garnering the most attention. However, the possibility of a slowdown in China is equally capable of sending the US economy into another tailspin.
Earlier this week, and in the midst of some of the most violent demonstrations of the past two years, the Greek parliament passed a series of new austerity measures under pressure from the "troika" of lenders – comprising the European Central Bank, the European Union, and the International Monetary Fund, So far, Greece's efforts to deal with a widening deficit gap have been underwhelming. Spending continues, for the most part, unabated.
---