Home prices stabilizing. So what's wrong with Atlanta?
(Read article summary)
Home prices in some cities show some signs of stabilizing. But in Atlanta, the decline in home prices is accelerating.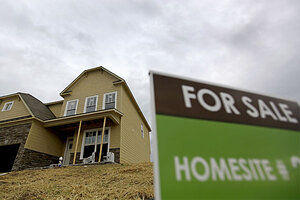 David Goldman/AP/File
Some of America's most closely watched housing numbers are starting to suggest that the big decline in housing is coming to an end, at least in some metros.
Home prices in Seattle, Minneapolis, and Denver have begun to trend upward in the past few months, according to the S&P/Case-Shiller housing indices. Even hard-hit metro areas such as Tampa, Fla., and Phoenix have seen a modest rebound.
But in Atlanta home prices not only continue to fall, the declines are accelerating. They now stand at a 14-year low.
That artifact should give homeowners pause, especially those who expect a quick rebound in housing. Nationally, prices haven't been this low since 2003. In Atlanta, they haven't been this low since early 1998.
"Atlanta continues to stand out in terms of recent relative weakness," said David Blitzer, chairman of the index committee at S&P Indices, in a statement. Of the 19 cities tracked in January, Georgia's largest metro saw prices fall 2.1 percent from a month earlier and a whopping 14.8 percent over the last year, the biggest year-on-year decline since the depths of the Great Recession..
So is Atlanta an oddity – or a troubling signal that other homeowners should worry about?
---