Fed sees more growth? Don't count on it. Recession ahead.
(Read article summary)
Despite the Federal Reserve's brighter outlook for the economy, consumers won't spend enough to keep the US from sliding into a moderate recession this year.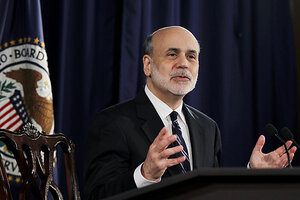 Jason Reed/Reuters
Is the United States on the brink of a recession? To judge by the Federal Reserve, which boosted its economic growth forecast Wednesday, the answer is no. Pointing to the 25 percent rise in the S&P 500 index from its October 2011 low, bullish investors cry, "No!"
But consumers, not investors, set the tone for the economy. On the consumer side, the risks are tilted toward the downside.
The US economy has been fueled in recent months by strong consumer spending, which increased in February by 0.8 percent, its best showing in seven months, and 0.4 percent in January. Retail sales rose 1.1 percent in February – the fastest pace in five months – while same-store sales advanced 4.7 percent. These numbers correlate with recent gains in consumer confidence and sentiment.
Unfortunately, that pace doesn't look sustainable. Personal income growth continues to be weak – up just 0.2 percent in February – meaning this recent exuberant consumer spending is being fueled largely by increased debt and further dipping into savings. Real household after-tax incomes declined in February for a second straight month and have gained a mere 0.3 percent year over year. Consumers still face high personal debt levels.
Housing activity remains depressed, with the only life coming from the multifamily component, which is being driven by the zeal for rental apartments as homeownership falls. Homeowners are losing their abodes to foreclosures; many can't meet stringent mortgage lending standards; some worry about homeownership responsibilities in the face of job uncertainty; and many people have no desire to buy an asset that continues to fall in price. I am looking for a further 20 percent slide in housing prices.
---