Nutella settles lawsuit. You can get $20.
(Read article summary)
Nutella settles lawsuit over false advertising claims. Because the maker of Nutella settles lawsuit, it agrees to set up a $3 million settlement fund to repay customers up to $4 a jar.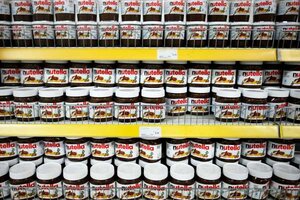 Dado Ruvic/Reuters/File
The headline that caught my eye – "Nutella settles lawsuit" – took me back instantly to memories of slathering the product on real French bread. It was convenient. You spread it on like peanut butter, but it tasted so much better: chocolate with just the right essence of hazelnut.
Back then, it was touted as an after-school treat for European kids and hard to find in the United States. Now, it's marketed increasingly for breakfast for American children. That's what got its maker, Italy's Ferrero Group (which also makes Ferrero Chocolates and Tic Tacs), into trouble with US courts.
Advertised as a way to get children to eat a healthy breakfast, Ferrero was insinuating that Nutella was healthy when, in fact, it has about as much nutritional value as a candy bar. Or so claimed several consumers, who sued the company's US unit.
As part of its settlement of two class-action suits, Ferrero U.S.A. Inc. is offering to reimburse consumers for up to five jars (at $4 a jar). Since it doesn't appear you need any receipts, it's one of the easiest $20 you can make. You can apply here.
Your actual reward could amount to less than $20, because so many people may apply for the $3.05 million available. But I'm not sure I'll be one of those people.
Our family is certainly entitled to the money. My daughter has become a big fan, so we bought far more than five jars of Nutella between the court-specified period of Jan. 1, 2008, to Feb. 3, 2012 (Aug. 1, 2009, to Jan. 23, 2012. for those in California, where one of the suits was filed).
---