Is US a model for austerity-wary Europe?
(Read article summary)
Despite its sluggishness, the US economy is growing while Europe's is contracting. A rising number of policymakers blame Europe's austerity moves.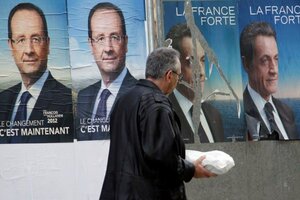 Regis Duvignau/Reuters
America's poor jobs report has rattled world markets. Germany's DAX index fell 2 percent Friday. Wall Street saw its worst week of the year, as slowing job growth stoked fears that recovery in the United States is faltering. Last month, the economy added only 115,000 jobs.
But the more telling number is 169,000. That's the number of jobs lost in the euro zone in March. For all its sluggishness, the US economy is still growing and its unemployment rate is down to 8.1 percent. The euro zone appears to be contracting and its unemployment rate has risen to 10.9 percent, a 15-year high.
There are myriad structural reasons for this dichotomy. But the distinction getting the most attention these days is a policy difference: America has chosen growth. Europe has chosen austerity. And it looks like the Europeans are losing the argument.
Everyone recognizes that austerity is hard. But what if it's wrong, too? This is boosting calls for more growth-oriented policies – on both sides of the Atlantic – which is having important political repercussions.
On Sunday, millions of voters in France and Greece go to the polls and are likely to throw out the leaders who have backed austerity and spending cuts. In France, Socialist Francois Hollande is expected to win the presidency and has pledged to renegotiate the austere European Union treaty that would cap national deficit and debt levels. In Greece, both major parties are so discredited by the cuts that they have begun to initiate that it's not clear that they can win a majority of parliament even in coalition.
---