Foreclosures down, short sales up. Are banks getting smart?
(Read article summary)
Foreclosures are down to their lowest levels in nearly five years. One reason: Lenders are increasingly using short sales, instead.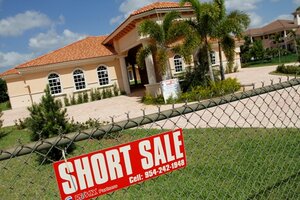 J Pat Carter/AP/File
The number of foreclosures in April fell to their lowest level since 2007 – and one reason is that lenders are getting smart.
Instead of foreclosing on people, a costly and lengthy process, they're increasingly using short sales to move people out of homes they can no longer afford. Short sales are not only faster than foreclosures, they often turn out to be cheaper. By forgiving part of the loan up front (a loss they would take anyway during foreclosure, lenders can get possession of a house faster and sell it before it has had time to deteriorate. Homeowners get to shed their mortgage debt faster – and with less damage to their credit rating.
Short sales began outpacing foreclosures in some states late last year. Six states saw more preforeclosure sales – typically, short sales – than foreclosures in the fourth quarter, according to RealtyTrac, an online marketplace for foreclosure properties based in Irvine, Calif. In preliminary first quarter data for 2012, that total jumped to 12 states, including traditionally big foreclosure states like California and Arizona, RealtyTrac reported Thursday.
"I think we will see more states with short sales outnumbering foreclosure sales in the coming months," says Daren Blomquist, RealtyTrac vice president, in an e-mail. " In addition to the government incentives they can get for a short sale through the HAFA [Home Affordable Foreclosure Alternatives] program, lenders are realizing they can often recover more of their losses through a short sale than through foreclosure, and also that they can avoid any accusations of improper foreclosure procedures."
---