Facebook IPO? Flat. Facebook future? Bright.
(Read article summary)
Facebook IPO generated no big stock gains on its first day of trading. But Facebook has many of the traits that made Apple, Microsoft, and Google great in the long run.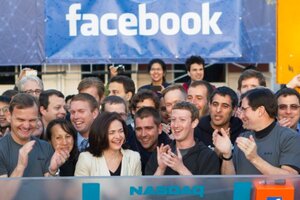 Zef Nikolla/Nasdaq via Facebook/AP
So the Facebook IPO finally took place and Facebook shares are now available for all and sundry – worth at the end of their first day of trading almost exactly what they were worth at the beginning: about $38 apiece.
Now the next difficult question: Is Facebook the next Apple, Google, or Microsoft – that triumvirate of companies that we tend to come across one way or another in our daily dealings, or which have in some way or other driven how we experience the Web today? (You might not own an Apple device, but if you've used a smartphone recently then it probably had a touch-screen-driven system, and apps, and you might have thought about buying music from an online store.)
So is Facebook going to drive our Web experience forward in the way that those three have? In researching and writing my book "Digital Wars," on how those three companies have interacted down the years, a few points became clear to me.
First, if you get it right, then controlling the software platform can make you very rich. Microsoft owns Windows and Office, and together they actually contribute about 105 percent of its profits every quarter (other divisions, notably search, then make a loss, bringing us back to 100 percent).
---