US jobs report eases global gloom
(Read article summary)
The better-than-expected US jobs report suggests the US is not following Europe into recession. But some analysts worry that head winds will keep growth anemic.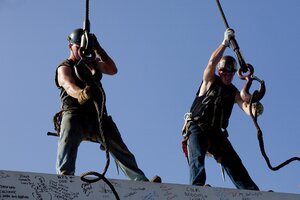 Mark Lennihan/AP
The United States created 163,000 additional jobs in July, a number that will help dissipate some of the economic gloom that has settled on the world lately.
The better-than-expected number suggests that the US is not headed into recession, may not need an immediate boost of stimulus from the Federal Reserve, and will continue to buy products from Bangalore, Shanghai, Mexico City, and so on. While July's job growth was not enough to bring the unemployment rate down – the rate actually ticked up from 8.2 percent in June to 8.3 percent – in the context of a global slowdown in economic activity, it was cheering.
Germany's DAX stock index rose nearly 4 percent for the day; France's CAC closed up 4.4 percent. In the US, the S&P 500 index was trading up 1.8 percent headed toward Friday's close.
"This was a good report," says Scot Melland, president and chief executive officer of Dice Holdings, which runs specialized career websites in the technology, financial services, and health-care industries. "If you look at it on a global basis, the US continues to do well, certainly relative to Europe…. But we haven't quite made the medal stand yet."
---