Five things Yahoo CEO Mayer must do now
(Read article summary)
Yahoo CEO Marissa Mayer has the opportunity to focus Yahoo into a kind of 'utility company' for the Internet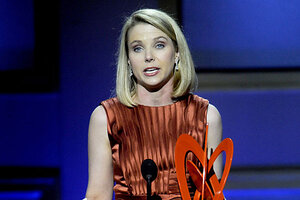 Henny Ray Abrams/AP/File
Much has been made about Marissa Mayer, Yahoo!'s new chief executive. But shareholders need to know what will become of the company, not the CEO. Her challenge is big and urgent, but not impossible if Ms. Mayer and the board have the guts and business acumen to transform the company from providing services to creating products. Think of the revamped Yahoo! as a utility that offers other companies the online tools they need to succeed. Here are five things she must do – and soon:
1. Take an inventory
The company's product mix needs an asset inventory. Today, Yahoo! places a distant third in the online search market today, a business they arguably helped create. Over the years Yahoo! has been building infrastructure that powers and, more importantly, generates content. For now, Yahoo! is the only broad-based Internet medium that generates content that doesn't come from its users. It has many products (search, mail, mobile ads) that provide bits and pieces of the end-user experience, but its mission statement "Your world, your way" is too vague and its market target too broad to be best in class at any one thing.
Yahoo!'s opportunity is to focus its people and development talent in mobility, advertising, entertainment and search and target them to a smaller market segment.
2. Know the competition
---