Facebook is worth $5 a share
(Read article summary)
Facebook shares have already lost nearly half their value. But recent selling suggests Facebook shares have much further to fall.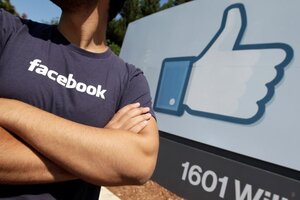 Paul Sakuma/AP/File
Everybody knows the price of Facebook stock has fallen to just above $19, nearly half its value back in May, when it first sold shares to the public. But that plunge is nothing compared with the deluge that's coming.
Last week, I warned that Facebook (FB) will fall to $7.30 a share. I now believe it could trade as low as $5. If you hold the stock and have not sold, you really should do so at once.
What has changed is the quite unbelievable selling of shares by those who until last week were locked in to hold the stock since its initial public offering (IPO) in May. As a reminder, lock-ins of more than 268 million shares expired on Aug. 16. Another 1.7 billion lock-ins will expire by Christmas. That whole process will increase the number of shares that can be traded by 276 percent by the end of November. Many if not most of the folks holding locked-up shares bought them for as little as 50 cents apiece, so even if they sold at $5 they would be banking gains of 900 percent. Not bad.
I expected heavy selling from certain quarters last week. What has horrified me is the selling by a non-executive director of Facebook, Peter Thiel, who dumped $400 million of shares, according to a regulatory filing. at between $19.27 and $20.69 per share. Having already stuck $640 million into his bank account from sales made at the IPO, Mr. Thiel has turned $500,000 into $1 billion of cash and has now sold 36.8 million shares and holds just 5.6 million.
---