Consumers riding high as retail sales surprise: this week in the economy
(Read article summary)
Retail sales surged 0.6 percent last month, on the strength of auto sales and building materials. Also this week, stock prices swing wildly as core wholesale prices suggest tame inflation and manufacturing slows.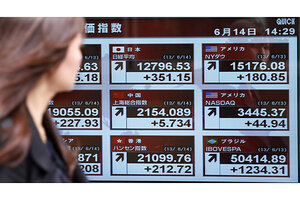 Koji Sasahara/AP
Retail sales go big:  Retail sales rose 0.6 percent in May and 4.3 percent since last year, beating analysts' predictions and stoking optimism for more accelerated economic growth going forward. Auto sales ruled the report, jumping 1.2 percent for the month. Excluding auto sales, retail sales rose only 0.3 percent. Building materials also gained 0.9 percent in a strong showing.
The data prompted Barclays Research to revise upward – significantly – its predictions for second-quarter gross domestic product: from a 1.1 percent annual rate to 1.8 percent. 
Wholesale prices rise sharply:Â For the first time in three months, the index moved up, rising 0.5 percent from April to May, but it was due almost entirely to higher food and gasoline costs. Core prices, which exclude those two volatile categories rose only 0.1 percent. That suggests that underlying inflation is still tame, a key indicator the Federal Reserve is watching as it prepares to meet next week and review the economy and its own interest-rate policies. Â  Â Â 
Jobless claims fall: The number of people applying for initial unemployment benefits fell for the second week in a row last week, from 346,000 to 334,000 claims (a decline of 12,000), according to the Labor Department. It was the smallest number of applications since early May, and a hopeful sign that the job market is making further improvement. Job market performance will be a key factor in consumer spending and the growth of the US economy going forward, Josh Shapiro, chief US economist for MFR, Inc. in New York, wrote in an e-mailed analysis. "On a fundamental basis, labor market conditions will be the key factor for the consumer, and evidence concerning job growth therefore will remain the paramount economic variable for some time."
The stock market's wild week: The US stock market has been on a roller coaster for the past week, with the Dow dropping over 100 points both Tuesday and Wednesday, then soaring on Thursday, and losing 105 points on Friday. The market gauge has swung more than 100 points in seven sessions over the past two weeks. The swings were felt abroad as well: Japan's Nikkei Index plunged 6 percent Thursday.
The market volatility can be largely credited to uncertainty over central bank policies, and whether the Fed will allow short-term interest rates to climb in the coming months. In particular, bond prices have been falling in recent weeks over concerns that the Federal Reserve will soon scale back its stimulus efforts. 
Manufacturing goes flat: Total industrial production went unchanged in May, and manufacturing ticked up .01 percent.  The weak numbers could be a signal that the US manufacturing sector is poised for a contraction, barring strong growth in June. "Strong headwinds have made it difficult for the recovery to gain momentum," IHS economist Erik Johnson wrote in an e-mailed analysis. "The sequester will hurt growth through the end of the year, while slowing growth in emerging markets and a lengthy Eurozone recession have muted foreign demand. This is hurting manufacturing and prompting businesses to remain ultra-cautious about hiring and capital spending."
Mortgage rates on the rise:  The average interest rate for a 30-year fixed rate mortgage jumped to 3.98 percent this week, nearing the 4 percent mark for the first time in nearly a year and a half. The last time rates were over 4 percent was March 2012.  Federal Reserve bond purchases have kept rates low during that period, and speculation that the Fed will end those purchases is pushing rates higher. Still, by historical standards, rates remain quite low. 
---