Loch Ness monster: How much spin is too much spin?
(Read article summary)
Loch Ness monster: If the Loch Ness Monster is a myth, should Scotland tell tourists? Is that bad for business?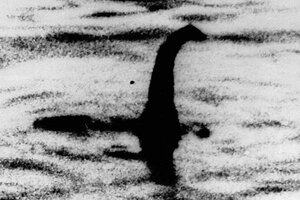 (AP Photo, File)
If you're selling a serpent, or rather a mythical serpent, how much spin is too much?
That seems to be gist of the latest Loch Ness monster spat.
Tourism is big business in the Scottish Highlands. And nothing draws folks to Scotland's second-longest lake like a good Loch Ness monster sighting.
But two local businessmen have set off a tempest in a serpent's teapot over how honest to be with tourists about whether there is – or isn't – a sea monster in Loch Ness.
George Edwards, who runs Loch Ness Cruises, complained that some of the other members of the Drumnadrochit, Scotland, Chamber of Commerce are leaving tourists - especially those visiting the Loch Ness Centre - with the impression that the Loch Ness monster is just a "myth."
That, in his opinion, is bad for business.
"Just about every time that [Centre researcher Adrian] Shine appears in the media he talks about big fish and big waves," Mr Edwards said in a letter to the chamber of commerce. "I believe they are doing more harm than good in promoting Loch Ness tourism with their negative theories... How many people come here to see the Loch Ness Big Fish or the Loch Ness Big Wave?"
The Loch Ness Centre seems to be trying to walk the line between the sea monster "sightings" and sharing information on the scientific research that has been done at the Loch. "On one hand, the loch's famous "Jurassic Park" reputation, 1000 reliable eye-witnesses and some classic photography. On the other hand, hoaxes and illusions, Scotland's journey and the legacy of the ice, life in the abyss and a possible underlying truth," says the Centre's website.
---