Costs will rein in Arizona's immigration crackdown
Arizona can arrest illegal immigrants now, but then what? Prison and deportation are both too expensive to sustain.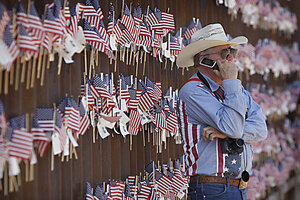 Matt York/AP/File
Suppose the US Supreme Court largely upholds Arizona's tough immigration law and, as a result, Arizona police pick up an extra 5,000 or 10,000 unlawful immigrants next year. Then what?
Arizona could slap illegal aliens with a $100 fine. It could arrest them. Or it could turn them over to federal officials, supposedly to be deported. The latter two options turn out to be expensive.
Around the world, country after country is facing the costly dilemma of what to do with perhaps 50 million illegal, undocumented immigrants collectively. It's a problem for Canada, Britain, France, Italy, and Spain. India tries to limit immigrants from Bangladesh. South Africa has troubles with illegal Zimbabwean immigrants.
Even Mexico has to deal with illegal aliens from Honduras and Guatemala.
---