By fearing rise of Al Qaeda in Syria, US ignores greater threat: inaction
Focusing on Al Qaeda's potential for exploiting the Syrian conflict distracts from the rapidly mounting costs of US inaction. If the US continues to sit on the sidelines as the human toll rises, it could face a decidedly anti-American government in Damascus, jihadists in power or not.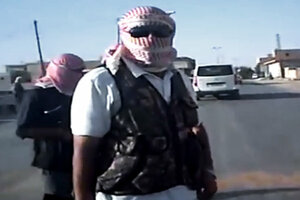 Ugarit News via AP video
Considerable ink has been spilled in recent weeks over the growing threat Al Qaeda fighters pose to the regime of Bashar al-Assad in Syria. One of the many arguments being put forward for why the United States should not supply more direct assistance to Syrian rebels is that a rebel victory could result in Al Qaeda or its sympathizers coming to power in a post-Assad Syria. Given how Afghanistan's US-supported mujahideen later morphed into Al Qaeda and the Taliban, the Obama administration's caution is understandable.
Yet ironically, this view transforms Al Qaeda into one of Mr. Assad's most effective assets. For the Syrian regime, the jihadist challenge in Syria is small yet growing, but the prospect of the US providing rebels with surface-to-air capabilities, a no-fly zone, or more direct assistance presents an existential threat. If Al Qaeda's presence is deterring US policymakers from getting further involved in the Syrian crisis, then it may be a presence that the Assad regime finds well worth preserving.
---