8 ways you can help define a political center
Former Sen. Olympia Snowe of Maine suggests that citizens engage with established groups that are already working for political common ground. Here are eight that she recommends.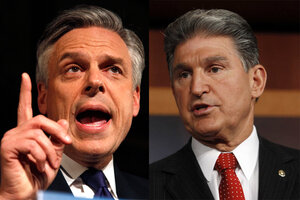 Charles Krupa/AP and Gary Cameron/Reuters
In her book, "Fighting for Common Ground," Olympia Snowe, the former senator from Maine, writes that the "fastest way" for citizens to push for compromise in Congress is to "support the efforts of existing national groups" that advocate bipartisanship. She recommends the following eight organizations, urging people to "browse their websites, visit them on Facebook, and follow them on Twitter." Several of them invite direct citizen participation.
Bipartisan Policy Center is a think tank started by four former Republican and Democratic Senate majority leaders to research and advocate bipartisan solutions to national problems.
No Labels is a citizens' movement of Republicans, Democrats, and independents that promotes "the politics of problem solving." It has organized a bipartisan group of members of Congress to meet regularly.
---