Government shutdown? Here's an example of working together at the state level
Last year I broke ranks with majority Democrats to work with Republicans on the Washington state budget. I got angry emails and the cold shoulder, but I helped produce a historic bipartisan budget. To find common ground, you first have to find the courage to step onto it.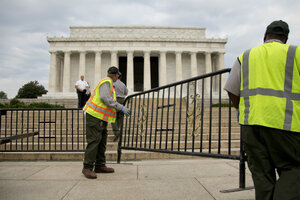 Carolyn Kaster/AP
The shutdown of the federal government has left many Americans scratching their heads. It's hard for outsiders to understand why the political parties can't just work together. My own experience as a lawmaker at the state level might provide a valuable lesson in overcoming political gridlock.
In March of last year, I and two other Democrats in the Washington State Legislature broke with our Senate caucus to work with the Republican minority on a state budget. Within days I received 8,000 negative emails, hundreds of letters, and my local police department felt compelled to park a squad car on my residential street for protection. One of my colleagues warned me that the only job I'd ever get in the future would be as a gas station attendant.
Surprising to some, withstanding this fire eventually helped in the passage of a groundbreaking package of fiscal reforms. And the resulting budget passed with historic bipartisan support. The seeds of this success led to a bipartisan coalition running the Senate and for the first time appointing bipartisan committee chairs.
What I learned from this experience was that to find your footing on common ground, it takes willingness – and courage – to actually step onto it.
One reason I was able to work well with Republicans was my choice to literally sit on their side of the aisle in the Senate chamber. I did so originally as a junior senator (our party had the majority and couldn't all fit on one side). As my seniority increased, I did it because I wanted to. However trivial that may seem, it allowed me to build relationships with these lawmakers and their families, discover areas where we agree, and build trust. We still had sharp differences, but I found a willingness to work problems out, rather than fight.
---