Germany's Merkel must unite with opposition Social Democrats
The challenges ahead for Germany and Europe are on a grand scale. Therefore, a 'grand coalition' between German Chancellor Angela Merkel's Christian Democrats and the opposition Social Democrats is best for Germany and for Europe.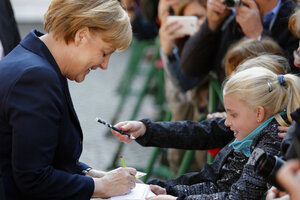 Michael Dalder/Reuters
The most powerful woman in the world – as German Chancellor Angela Merkel is often called – is now going to have to bend a bit. Despite the very strong showing of her center-right Christian Democrats (CDU) in Sept. 22 elections, the CDU fell just short of a parliamentary majority, and will have to negotiate a power-sharing arrangement with one of the opposition parties. For the sake of a healthy Germany in a still-distressed Europe, let's hope for another "grand coalition" with the main opposition, the center-left Social Democrats (SPD).
The two parties are meeting today to discuss a coalition; the CDU will meet with the opposition Greens, a smaller party, next week.
Grand coalitions are not the norm in German federal politics. The last one occurred in 2005, when traditional political party partners couldn't form a majority. It was Ms. Merkel's first term as chancellor, and she was forced to integrate her main adversary, the SPD, into her governing team. The situation is similar today, but this time the SPD is loath to enter into a coalition with Merkel's CDU.
Four years of governing with Chancellor Merkel reduced the Social Democrats to junior status, and it is now questionable if the party can still call itself a catch-all party. Its base is not so eager to stand in Merkel's shadow again. Merkel also knows that she and her party will have to concede a great deal to reconfigure a grand coalition – though she insists that her position on Europe's fiscal crisis is not for sale. She has stood firmly for structural reform in debt-burdened countries such as Greece in exchange for financial help. But she has been criticized for focusing too much on austerity in these countries and not enough on stimulating growth.
---