Persistence is key to agreeing on parks use for immigrants, long-time residents
Nearly 30 percent of residents in the city of El Cajon in California are foreign born. Many love to use city parks but have run into scheduling clashes with established activities. A dialogue was begun to resolve the conflict. Those involved learned the importance of persistent engagement.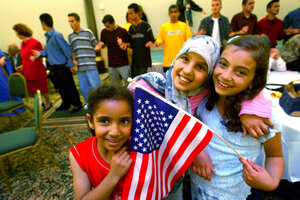 Robert Harbison/The Christian Science Monitor/file
Members of Congress are not the only people who must bridge their differing views if they want to make progress, whether on the nation's debt or immigration reform. Here in the city of El Cajon, Calif., just east of San Diego, long-time residents and newcomers are searching for literal common ground – in city parks and playing fields.
El Cajon is one of the most diverse cities in the state. Almost 30 percent of its 100,000 residents are foreign born, including a large contingent of refugees from the Middle East, particularly Iraq. Many of them love to play soccer, and are accustomed to using parks in the evenings for sport and social activities. But they aren't always able to access these parks because of scheduling clashes with established activities in the same spaces.
An issue such as parks use may seem small compared to world challenges, but it involves the same kinds of tensions that play out on the global stage: differences between those who are well off and those who aren't; cultural practices that collide; a scramble for limited resources.
Whether in Congress or local communities, resolving disagreements requires honest dialogue, a willingness to listen, and building trust. Here in this 100-year-old city, nestled in an arid valley surrounded by mountains, residents have persevered to do these things.
Last spring, some of El Cajon's newcomers, long-time residents, city officials, and others came together to build trust by talking honestly and listening patiently. It was an organized effort to increase youth access to green space and outdoor activities. Months later, they've made progress – but they're also discovering it will take further commitment to get to the finish line.
---