To fix Washington, look to Mexico
Mexico's President Enrique Peña Nieto's political grand bargain among rival parties has helped usher in long-needed reforms. The US has something to learn from Mexico's willingness to put country ahead of party.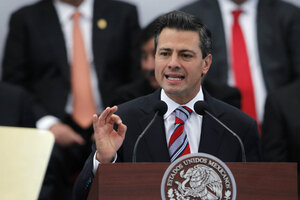 Edgard Garrido/Reuters/File
Mexicans are puzzled looking at the political crisis in the United States, if only because for a long time we have been lectured from up north about the importance of getting our act together to become governable.
But now, unusually, Mexico's main political parties are cooperating to solve pressing national problems. Perhaps the US has something to learn from them.
Hollywood often uses the term "Mexican standoff" to describe a confrontation among mutually hostile participants armed with guns, where there is no safe way for any party to either kill the other or safely withdraw.
Maybe we will need to rephrase that and call it a "Washington standoff." During 2013, the US has undergone a budget sequestration, government shutdown, and a near-breach of its debt ceiling. Political gridlock and ideological extremism have turned the standoff into a chronic condition.
Enter the "Pact for Mexico." President Enrique Peña Nieto's surprising political grand bargain has allowed Mexico's three largest political parties to pass several significant, long-needed reforms. These include laws to bring greater accountability to education and more competition to the economy and telecommunications.
In the past, such reforms would have been as difficult for a Mexican Congress to approve as for the US Congress to agree on changes to Social Security or Medicare. Lawmakers here just haven't been able to touch the teachers union, for instance, just as American politicians haven't dared lay a finger on the "third rail" of entitlements. You can see why President Obama, so embattled over the years, admires the political consensus-building in Mexico, pointing out in his May visit that the parties are competing vigorously while still forging compromise.
---