Let the public help draw voting districts
No state has yet found a perfect solution to gerrymandering – the partisan drawing of voting districts that favors parties and incumbents. But reform efforts in states and cities point to an answer: independent redistricting commissions that rely on public input for drawing maps.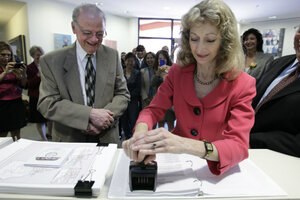 Rich Pedroncelli/AP/file
One factor contributing to polarizing politics in Washington is the widespread partisan gerrymandering of America's voting districts. Many people, on both sides of the aisle, think one way to break the stalemate is to find a solution to gerrymandering – the drawing of district boundaries that heavily favor one party and keep incumbents safe.
Redistricting to create more representative voting areas and greater competition among candidates is a noble goal. Voters should choose their lawmakers, instead of lawmakers choosing their voters. Done right, redistricting reform can help produce a Congress that will be more responsive to voters. But the road to that goal is long and requires persistence on the part of interested voters and lawmakers.
Redistricting abuse goes back to the very first session of Congress, when then-Virginia Gov. Patrick Henry attempted to gerrymander future President James Madison out of a seat. Thankfully Governor Henry's attempt failed, and Congressman Madison went on to guide the Bill of Rights to passage. Today, in the era of fast computers, sophisticated software, and massive databases, gerrymandering politicians can guarantee their party a decade of election victories (districts are redrawn every 10 years, after each national Census).
No state has found a perfect solution to gerrymandering – yet. But interest is building, and reform efforts in several states – and especially at the local level – are showing what works, and what doesn't.
New York and a handful of other states have taken a step that, at first glance, seems like a good idea: creating citizen advisory commissions to take the partisan edge off redistricting decisions and to collect public input on where district lines should be drawn. But legislators still retain control in these states, and advisory commissions have proven to be ineffective guardians against partisan gerrymandering
---