Obama can put brakes on big bank bonuses
With a little creative pressure, President Obama could put serious heat on banker bonuses without a long Congressional battle.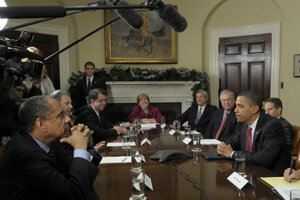 Susan Walsh/AP/Newscom/File
If he wanted to, President Obama could discourage excessive Wall Street bonuses today.
No need for congressional action or new federal rules. All he has to do is tell the nine major banks rescued with taxpayer money that they will lose their status as a "primary dealer" unless they cap compensation at $200,000 a year, suggests economist Peter Morici. Any compensation above the cap would be taxed at 50 percent, he adds.
That would threaten big banks. Primary dealers buy and sell federal securities, dealing directly with the Federal Reserve and the Treasury. It's a huge, lucrative business.
If that wasn't persuasive enough, Mr. Obama could seek to take away their access to the Federal Reserve's "discount window," which loans money to banks suffering a temporary shortage of cash or other liquid assets, says Mr. Morici, a professor at the University of Maryland, College Park. That, too, would get bankers' attention.
Although the White House is seeking a special tax on large financial institutions to recover Washington's lost bailout funds, Obama has taken no decisive action to restrain Wall Street from handing its executives and other employees pay packages that easily could match those of the boom years. Many Americans blame the financial industry for the crisis that brought on the "great recession." White House economic adviser Christina Romer recently called the bonuses "ridiculous." Even the pro-business Wall Street Journal headlined a recent front-page story: "Banks Brace for Bonus Fury."
---