Want a balanced federal budget? Cut state workers' pay.
On average, state workers make $39.66 an hour, have traditional pensions untouched by stock market moves, and are laid off at one-third the rate of private-sector workers. Considering concerns about the federal budget, are government jobs too cushy?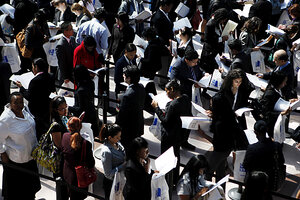 Shannon Stapleton
Before the great recession, some people pooh-poohed government jobs. Who wanted stodgy when the private sector had go-go growth? Why stick with safe when you could get bonuses and stock options?
Today, and one financial crisis later, secure and solid look good. Perhaps too good.
On average, state workers and local government workers made $39.66 an hour in total compensation last year, according to Chris Edwards, an economist at the libertarian Cato Institute in Washington. Pay was 34 percent higher than in the private sector. Benefits were 70 percent higher.
Also, 90 percent of the 20 million state and local government workers have a traditional pension, where benefits aren't touched by stock market moves, notes a study by the Pew Center on the States. Only 20 percent of workers in the private sector still have a traditional pension. In 2005, a private-sector pension paid less than half the median public-sector pension.
Moreover, workers in the public sector are laid off or discharged at just one-third the rate that private-sector workers are, notes Mr. Edwards.
---
Follow Stories Like This
Get the Monitor stories you care about delivered to your inbox.