Wealthy Americans shoulder health care tax burden
President Obama is 'spreading the wealth,' that is, taxing the rich and redistributing the wealth. Good policy or heavy-handed intrusion?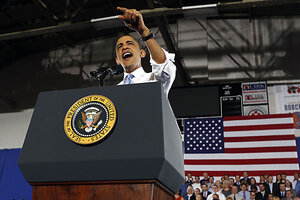 Kevin Lamarque/Reuters/File
"When you spread the wealth around, it's good for everybody," presidential candidate Barack Obama famously told an Ohio man, soon dubbed "Joe the Plumber."
With passage by Congress of healthcare reform, Joe should pay attention. The redistribution of income favored by President Obama will soon begin in earnest.
The new healthcare law will cost the richest 1 percent of families an average $52,000 apiece, or $61.2 billion as a group, in fiscal 2016, according to estimates by the conservative Tax Foundation. That's largely due to a Medicare tax hike on those earning more than $200,000 (singles) and $250,000 (couples). That tax will apply for the first time to investment income, which includes capital gains, dividends, and interest, which generally make up a larger portion of the income of wealthier people.
There is more redistribution to come:
•The Internal Revenue Service has stepped up audits of those making $1 million to $5 million by 33 percent in 2009, compared with 2008; and up 8.5 percent for those earning $10 million or more.
---