Why letting Greece default would be cheaper than a bailout
German Chancellor Angela Merkel Merkel pushed to get the German parliament to approve last month's nearly $1 trillion bailout for Greece. Some economists argue that it would have been cheaper to let Greece default and then bailout European bank bondholders.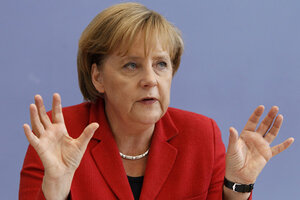 Tobias Schwarz/Reuters
Year after year, relatively well-to-do New Yorkers subsidize the poorer citizens of Mississippi through the federal system of taxes and disbursement. There's little complaining. No "tea party" protests.
Citizens of both states see themselves as brother Americans.
In Europe, by contrast, prosperous and productive Germans are loath to lend more aid to the Greeks because they're, well, Greeks, whom they regard as profligate.
German Chancellor Angela Merkel had to push hard to get the German parliament to approve last month's 750 billion euros (nearly $1 trillion) rescue package for Greece and other weaker members of the 16-nation eurozone. She did it because she and other European heads of state worry that a default by Greece, Portugal, or Spain would destroy the credibility of the euro.
As she put it: "If the euro fails, then Europe, too, will fail."
Maybe not. Some economists on the left and the right hold that European unity could still progress without its weak southern sister – and that Greece would be better off leaving the eurozone and defaulting on some of its debt.
In any case, the Greek rescue plan looks sufficiently iffy that worried currency traders have pushed down the value of the euro.
---