Deficit-cutting ax may fall on Social Security
Cuts in Social Security benefits might be used as one means to reduce the burgeoning federal budget deficit. But are there better ways to deal with the problem?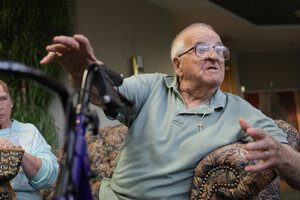 J Pat Carter/AP/File
The Social Security system today faces a threat greater than the drive for partial privatization by George W. Bush.
"That's not hyperbolic," says Nancy Altman, codirector of Social Security Works, a group dedicated to preserving the system that provides income for 50 million retirees, the disabled, millions of children, and more. Her fear is that President Obama's bipartisan National Com­mis­sion on Fiscal Responsibility and Reform will recommend cuts in Social Security benefits as one means to reduce the burgeoning federal budget deficit. If 14 of 18 commissioners agree on a deficit-cutting plan, it could be passed at a lame-duck session of Congress without the extensive hearings and discussions that normally precede such an important measure.
"There would be little chance for the public to have an influence," says Ms. Altman.
Public opinion polls consistently show that Americans don't want Social Security trimmed. The median retiree benefit at present is about $14,000 a year, hardly lavish. But Altman suspects the commission might sell Congress a plan to cut benefits, along with other deficit-reducing measures, as a necessity, albeit an unpopular one.
---