The case for cautious optimism
Many economic forecasters see nothing but further sinking, but with a rising number - if not percentage - of people employed, there are grounds for optimism.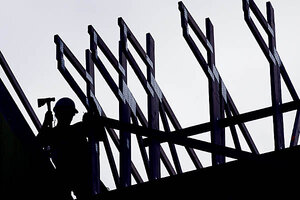 Rick Bowmer / AP / File
"Pouting pundits of pessimism."
Is that what those many economic forecasters, warning of a double-dip recession and deflation, amount to? Brian Wesbury, chief economist of First Trust Portfolios in Wheaton, Ill., thinks so.
Today's widespread gloom is "economic hypochondria," he writes in a blog. "This disease causes a person to think the worst about everything and anything that happens."
Apparently, the public isn't immune to the gloom. Nearly two-thirds of Americans – 62 percent – figure the economy has yet to hit bottom, according to a survey for Citi, the global financial services company.
No one knows for sure, of course. Economic forecasting involves a "lot of uncertainty," says William Poole, former president of the Federal Reserve Bank of St. Louis.
"It's all guesswork when you go forward," says Daniel Fuss, manager of the $19.2 billion Loomis Sayles Bond Fund.
Although neither one sees a vibrant economy immediately ahead, they don't expect a dip back into recession. They forecast sluggish growth.
The reductions in unemployment will be "far below what we need," predicts Mr. Poole, who is now a senior fellow at the libertarian Cato Institute in Washington.
Though regarded as a "monetarist," an economist who puts heavy emphasis on trends in the creation of new money, Poole says neither monetary policy nor fiscal policy can do much to pep up the economy at present. People and companies first have to pay down excessive debts, debts that were the major cause of the Great Recession in the first place, says Poole.
---