Stock market trading: Computers: 1 Investors: 0
Stock market is increasingly turning into a casino as superfast computers take over the bulk of trading on the stock market.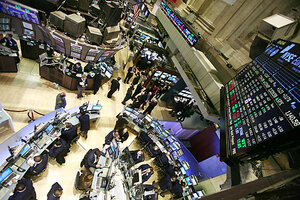 Mark Lennihan/AP/File)
A microsecond – a millionth of a second – is all it takes superfast computers to trade New York Stock Exchange-listed stocks on any of nine stock exchanges.
Such high-frequency trading is more than a technological curiosity. It has become so widespread within the past decade that it represents perhaps half of all stock trades in the United States. That has enormous implications for investors.
Among them:
•Stock markets are operating increasingly like a casino, says economist Harald Malmgren, who researched the topic with Mark Stys, chief investment officer of Bluemont Capital Advisors. The two co-wrote an article for The International Economy, a quarterly journal. In a phone interview, Mr. Malmgren likens computerized traders to operators of slot machines where the profit on one machine is small, but the return on a battery of machines is handsome.
Traditional value investing, by contrast, where brokerage analysts and others study a company's sales, profits, debts, etc., has become almost "irrelevant," says Malmgren. "That whole concept of buy-and-hold ... stocks is marginalized."
•Regular buyers and sellers of stock and exchange-traded mutual funds are losing billions of dollars in value, teeny bit by teeny bit, as the computerized traders take advantage of the slightest spreads in buy-sell prices on an individual stock market or between markets.
To a degree, high-frequency trading adds to market "liquidity," that is, its ability to accept buy-and-sell orders quickly. It also adds to its "efficiency," which reduces the cost of trades. But what investors gain in efficiency they could more than lose in profits.
---