Tax the rich, not small business
Small business growth powers the economy. If Obama extends the tax cuts on small business owners, will that hurt more than it helps?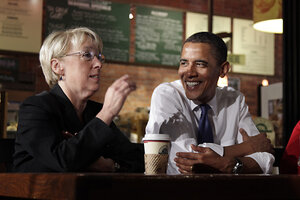 Carolyn Kaster / AP
Opinion polls find that the public has far more confidence and trust in small business than in Congress – around 59 percent versus about 7 percent. It's no wonder that Republicans and Democrats want to make allies of small business proprietors as they consider changing tax policy.
So when President Obama calls for repeal of President Bush's tax cuts for the very well-to-do, is he dealing a body blow to small business? It's a key question, especially at this vulnerable time for the economic recovery.
Small business is vital to the US economy. The Small Business Administration (SBA) notes that firms with fewer than 500 employees represent 99.7 percent of all US firms. They employ just over half of all private-sector workers and have generated 64 percent of net new jobs over the past 15 years.
A tax increase that hurts these engines of growth would slow an already glacial recovery.
Mr. Obama proposes to extend the Bush tax cuts for most Americans: couples making below $250,000 a year and single taxpayers earning below $200,000. More than 97 percent of small-business owners make less than that, an SBA official notes, and would avoid a tax increase.
---