Now, US can get tough with China on currency
Changing economic conditions in China and the US have made it possible for the US government to take action on China's manipulation of the yuan.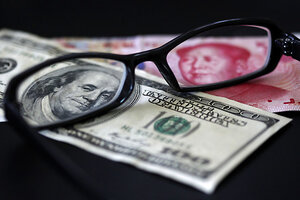 Photo illustration / Nicky Loh / Reuters
To promote its exports, China has been cheating economically by keeping the value of its yuan artificially low. For years this has made Chinese goods relatively cheap in the United States and given Wal-Mart and other import retailers a huge sales boost.
Now that it's election time, Congress has gotten excited again about the resulting loss of perhaps millions of jobs in American manufacturing. Is this the point when the US finally plays hardball with China?
The Fair Currency Coalition, a lobbying group, hopes so. It wants Congress to pass legislation to force the White House to counteract the yuan misalignment. Its petition was signed by 41 trade associations, 14 labor union groups, and 218 firms.
Voters are mad at Washington for not standing up for American business and labor, says coalition spokesman Lloyd Wood. So why has President Obama (and Presidents Bush and Clinton before him) not been tougher with China?
---