Currency market: Fix the rules. Avoid a trade war.
Currency market adjustments are a major focus of Friday's G-20 meeting of finance ministers and central bankers.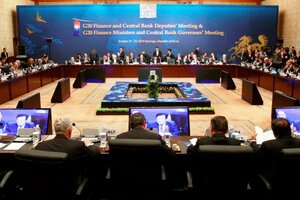 Ahn Young-joon/Pool/Reuters
The world needs new rules to keep nations from manipulating their currencies to get an export trade advantage. If rules don't get written, today's escalating trade frictions could heat up into a debilitating trade war.
That's the concern of some economists looking at the massive balance-of-payments deficit of the United States (heading toward $500 billion this year) and the huge trade surpluses of China. China's surprise quarter-point rise in interest rates Tuesday, which makes its yuan more attractive, could raise its foreign-exchange value. That would please the US. But finance ministers and central bankers of the G-20 group of nations are meeting Friday in South Korea because more adjustment is needed in the currency market to bring the world economy back into balance.
"We desperately need a new Bretton Woods," says Charles McMillion, a Washington consulting economist.
That New Hampshire gathering of the major industrial states as World War II was still raging crafted the postwar international monetary order of fixed currency exchange rates.
---