'Obamacare' tackles health care costs. Will Congress?
The president's health care reform plan includes tools to restrain rising health-care costs, but they may not survive future political battles.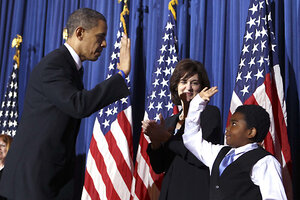 Larry Downing / Reuters / File
The United States spends far more on health care than any other nation. Those high costs pinch American consumers, but they're a boon to providers of those medical goods and services.
General practitioners, for example, made about $161,000 a year in 2004, about twice the average among the 30 democracies in the Paris-based Organization for Economic Cooperation and Development. Registered nurses with two years of college make roughly twice what teachers with a four-year degree make. The US spends roughly twice as much on prescription drugs ($572 per person) as the average OECD nation.
That's one reason Uwe Reinhardt, an expert on health-care economics at Princeton University in New Jersey, sounds so gloomy about prospects for reining in medical costs. "Every dollar of health-care spending is someone's health-care income," he notes.
---