Slow decade ahead for US, not a lost one
US economy won't endure a 'lost decade' the way Japan did.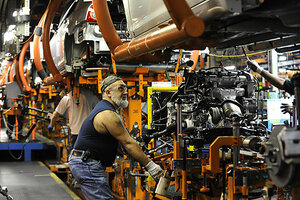 Dave Kaup/Reuters/File
Does America face a "lost decade," such as Japan suffered in the 1990s?
After all, Japan in that decade saw a massive real estate price bubble burst, leading to huge write-downs by commercial banks, deep recession, and – since the late 1990s – sustained stagnation and deflation. The United States has experienced something similar – a financial crash, the Great Recession, a bad slump in housing prices, and minute inflation.
"We are in for a weak decade. But not as bad as Japan suffered," predicts Nigel Gault, an economist with IHS Global Insight, a major economic consulting firm in Lexington, Mass.
Usually, after a serious slump, the American economy revives at perhaps a 7 percent growth rate, says Alan Levenson, chief economist for T. Rowe Price, a mutual-fund management giant based in Baltimore. This time, the US economy is only "gradually gaining momentum."
---