Not much stimulus from tax-cut deal
How much did the $862 billion stimulus package really help? Will the new tax cuts make any difference?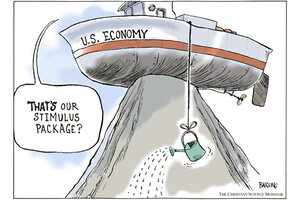 Illustration / Brian Barling / The Christian Science Monitor / File
The tax deal negotiated by President Obama and the Republican congressional leadership has been called a "stealth stimulus package." By maintaining all the Bush tax cuts, renewing unemployment insurance benefits, adding a payroll tax cut, and so on, the deal will probably boost the speed of the economic recovery.
But is it enough to reduce unemployment – and raise Mr. Obama's prospects for reelection in 2012?
If so, it's by the barest of margins. Several prominent Wall Street economists have raised their US economic growth forecasts for 2011 by half a percentage point or more. So real gross domestic product – the nation's output of goods and services – might rise by somewhere between 3 to 4 percent. That's only modest growth. It could leave unemployment unusually high – close to 9 percent – by the end of next year.
Some economists are even more pessimistic. Consumers are still reducing their debts by tightly managing spending, points out A. Gary Shilling, a consulting economist based in Springfield, N.J. He predicts a mere 2 percent GDP growth in 2011.
It's not that government stimulus doesn't work. The challenge is that it has to be big enough to really pep up hiring.
How big? In early 2009, Obama and Congress pushed through an $862 billion package of stimulus spending and tax cuts. By mid-summer the economy began to recover at a very slow pace. Most economists in the United States, with the exception of some economists in the conservative Austrian School, figure that without the 2009 stimulus, the economy would be in worse shape today.
How much worse is impossible to prove, partly because you can't chart the policy course not taken, partly because economics in any case is an inexact science. Then there's the added complication that consumers don't always act the way government wants them to.
---