Thailand king and I: Why the protests in Bangkok put a spotlight on the monarchy
(Read article summary)
The Thailand protests reveal an open split in the kingdom over the role of the monarchy in a democracy. Is it time for the king to acknowledge it?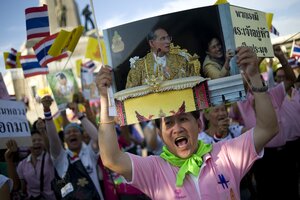 AFP PHOTO/PEDRO UGARTE/NEWSCOM
Keeping my head below that of the king of Thailand is difficult when he is shorter than I am. But crouch I did, like a Neanderthal, during a day I spent with King Bhumibol Adulyadej while he traveled in his kingdom up north, visiting dirt-poor farmers and inspecting agricultural projects.
Even more difficult, however, was censoring my words about the king's role in Thai society while talking to his aides. Under Thailand's strict lese majeste laws, I could have been jailed for up to 15 years if I uttered even the slightest criticism of His Majesty.
Fortunately, this king is easy to like. After six decades on the throne, he still genuinely cares about the Thai people – and most of them revere him. I saw peasants with their faces to the dusty ground as he passed by, as if he were a god. And yet, he would stop and chat with this farmer or that about their troubles. Later, back at the palace, he would write up orders to bureaucrats on what needed fixing in the farmers' villages.
That reverence toward the king, or at least the monarchy in general, appears to be cracking, however, with each passing day of violence on Bangkok's streets. Pro-monarchy and anti-monarchy feelings have been coming out in the open since March, when the struggle for power began between the so-called red shirts and the government of Prime Minister Abhisit Vejjajeva.
The whispered debate over the future of Thailand's constitutional monarchy is represented in the stark lines that divide the urban elite and the rural poor.
---