Why Russia covets the Black Sea naval base of Sevastopol
(Read article summary)
Ukraine recently agreed to extend Russia's naval base lease for its Black Sea Fleet until 2042. One visit to Sevastopol, the port in Ukraine where the fleet is based, and it's immediately clear why Russia would be loathe to ever give up the base.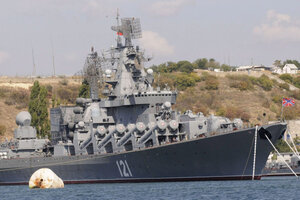 Sergei Chuzavkov/AP/CP/File
It's one thing to hear about a legendary place, and quite another to see it in person.
I'm referring to the Ukrainian port city of Sevastopol on the Black Sea. Ukraine recently agreed to allow Russia to extend the lease on its naval base there until 2042. In return, Russia will cut its gas prices to Ukraine by 30 percent, and pay $7 million more per year in rent.
For years, I'd heard and read about Sevastopol's strategic importance to Russia, and earlier, the Soviet Union. This harbor is a warm water port, which means it never freezes over. That's critical for Russia, which is landlocked except in the cold north. Sevastopol also gives Russia access to the Mediterranean Sea. And the port is one of the most naturally protected from the elements in the world.
It's that last point that really strikes a traveler driving into this city at the tip of the Crimean Peninsula. You turn a corner and suddenly find yourself atop a steep promontory, looking down onto a harbor shaped like a bobby pin, or perhaps more appropriately, a crab's claw. Across the V-shaped swath of watery blue, the land rises just as steeply, an impervious barrier between the port and the open sea.
---