UN sanctions on Iran for its nuclear program: Why did China go along?
(Read article summary)
The answer may lie in Beijing's careful calculation to keep Iranian oil flowing to the Chinese economy. Too-tough sanctions might compel Iran to shut down its oil exports. But no sanctions might force Israel to attack Iran and disrupt Middle East oil supplies.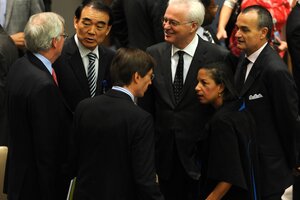 Xinhua/Shen Hong/Newscom
A Chinese puzzle lies behind Wednesday's vote in the UN Security Council that imposes new sanctions on Iran:
Why would Beijing help punish Iran for only appearing to make an atomic bomb but not also punish North Korea for having already exploded one?
Obviously, China is not too worried about nuclear proliferation, otherwise it would have used its considerable economic clout over North Korea to stop it from making a bomb (or two) over the past two decades. And if Beijing really wanted to prevent a nuclear arms race in the Middle East, it would have gone along with even tougher sanctions against Iran proposed by the West.
But it didn't. And there the guessing game starts about China's real motives in being slightly tough on Iran but not so on North Korea. (Indeed, China does not even acknowledge hard evidence that the North sunk a South Korean warship in March, killing 46 sailors.)
The answer to this puzzling contradiction in Beijing's behavior may lie in a famous quote from the late Chinese leader Deng Xiaoping: "To be rich is glorious."
Many of China's actions since it embraced capitalism in 1979 have been focused on an almost-imperialistic quest for resources abroad to feed its market economy and to lift itself up from poverty.
---