A year after his Cairo speech, Muslims think less of Obama
(Read article summary)
A new survey by the Global Attitudes Project shows Muslim views of President Obama and the US have slipped in several largely Muslim countries, severely in some. It's not the man, it's the American policy, the message seems to be.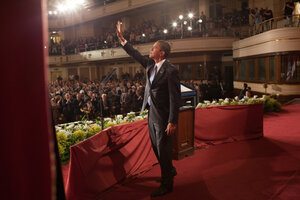 Chuck Kennedy/The White House/Rapport Syndication/Newscom
A year after President Obama wowed many Muslims with his outreach speech in Cairo, the Muslim world is not so wowed anymore.
According to the new survey by the Global Attitudes Project, put out by the Pew Research Center, favorability ratings among Muslims for the US and confidence in Mr. Obama slipped this year – severely in two key countries – after edging up slightly in 2009.
America's favorability in Egypt dropped from 27 to 17 percent. In Turkey, confidence in Obama has fallen from 33 to 23 percent. Interestingly, those are the two countries where the president gave major speeches to repair damaged relations with the Muslim world.
Muslims were also polled in Jordan, Indonesia, Lebanon, Pakistan, and Nigeria. Two things are worth noting about the part of the survey related to the Islamic world (the annual poll covers 22 countries).
---