The weed empire strikes back
(Read article summary)
As Roundup-resistant weeds surge, we should consider the long-term costs of our own excessive lawn maintenance.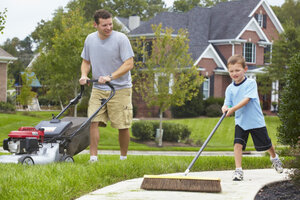 Newscom
Weeds are back, with Nietzschean resilience.
Several varieties of Roundup-resistant weeds (no, not just Kudzu) are surging across the South, an AP article notes, forcing farmers to resume environmentally harmful herbicide and tilling practices to control their spread.
"We're talking a pesticide treadmill here," one food safety scientist said. "It's just coming back to kick us in the butt now with resistant weeds."
Just as the BP oil spill is alerting Americans to the cost of our oil addiction, perhaps this weed boom could awaken us to the cost of our own backyard "farming."
Consider the resources that are wasted in the effort to keep our lawns looking like putting greens. According to People Powered Machines:
Each weekend, about 54 million Americans mow their lawns, using 800 million gallons of gas per year and producing tons of air pollutants. Garden equipment engines, which have had unregulated emissions until very recently, emit high levels of carbon monoxide, volatile organic compounds and nitrogen oxides, producing up to 5% of the nation's air pollution and a good deal more in metropolitan areas.

According to the U.S. Environmental Protection Agency (EPA), a traditional gas powered lawn mower produces as much air pollution as 43 new cars each being driven 12,000 miles.
---