Turkey and Israel meet secretly: Has reason returned?
(Read article summary)
Perhaps leaders in Israel and Turkey are beginning to realize the dire consequences of burying their important relationship over the unfortunate incident with the Gaza flotilla.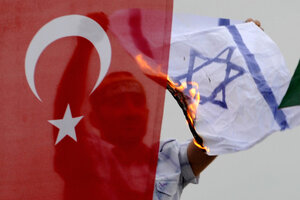 AFP Photo/Bulent Kilic/Newscom
That Turkish and Israeli officials met secretly in Brussels on Wednesday must mean that leaders in both countries are asking the what-if question.
What if this relationship remains in its near-dead state, almost buried by the Israeli killing of nine Turks aboard a Gaza-bound flotilla on May 31?
The answers are multiple and sobering.
For Israel, no revival of ties means it has lost its best Muslim friend in a hostile region. The two countries have been close for decades, secretly signing a pact in the 1950s that stipulated, for instance, that if Israel were attacked it could harbor its navy in Turkish waters.
For Turkey, a moribund relationship means it can't carry out its signature foreign policy of "zero problems" on its borders. In recent years, it's tried to act as a regional problem solver and mediator – including between Israel and Syria. The breakdown between Turkey and Israel not only prolongs problems, it could cause some.
Turkey loses something else. It risks what makes it unique: its ability to act as a bridge between Muslim and Western countries and cultures.
Soner Cagaptay, a Turkey expert at The Washington Institute for Near East Policy, gets down to the essence when he writes that "being Muslim does not make Turkey unique…; there are, after all, 57 other Muslim-majority countries."
Turkish-Israeli ties began to fray with Israel's invasion of Gaza in January 2009, after it got fed up with mortar attacks. The unfortunate flotilla incident made things worse. Turkey pulled its ambassador and canceled joint military exercises. It has demanded an apology, an end to the Gaza blockade, and an international investigation of the flotilla deaths.
---