Boston Pops and the Justice Department suit against the Arizona immigration law
(Read article summary)
Americans as well as immigrants showed up for music and fireworks in Boston on the Fourth of July. In Massachusetts, the immigrants who live here illegally are relatively safe. Not so in nearby Rhode Island. The differences between the two states point to a likely argument in the Justice Department suit against the Arizona law.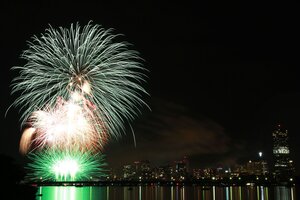 zumawireworld/NEWSCOM
Nearly a million people lined up along the Charles River on Sunday to hear the Boston Pops's Fourth of July concert and to ooh and aah at the fireworks "spectacular" – which was truly spectacular. Have you ever seen a heart-shaped explosive?
Just as spectacular was the variety of languages being spoken at this uniquely American event – Chinese, Hindi, Japanese, Russian, you name it – along with a display of national clothing, from Indian women wearing saris to a Japanese woman dressed up in a kimono on a very hot summer evening.
If Boston police were so inclined, they might have nabbed many of these immigrants for being in the US illegally. But they didn't.
In Massachusetts, the Democratic governor, Deval Patrick, has put a stop to local police working with federal officials in detaining undocumented immigrants.
Just an hour's drive away in Rhode Island, however, a Republican governor, Donald L. Carcieri, has enouraged police to work with US Immigration and Customs Enforcement (ICE) whenever they encounter a person who may be here illegally.
---