Stimulus vs. austerity: the perennial debate
(Read article summary)
To avoid a repeat recession, should President Obama spend more, or less?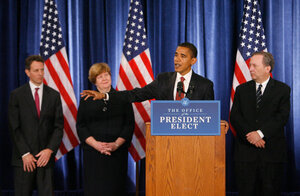 OWEN SL-BLACK STAR/Newscom
The Obama administration is at a fiscal crossroads. Should it pass another stimulus to avoid a damaging slump? Or should it follow Europe's lead and begin to cut spending to bring long-term debt under control before it drags down the economy?
The choice it makes could have profound consequences on everything from the job market to the value of stocks, mortgage rates, and the price of milk.
The president has no shortage of economic advisers on his payroll. But one other source to which he could turn for counsel is a pair of letters to the editor that appeared in "The Times" of London – in 1932, when the Great Depression was in full swing but just before the New Deal.
Recently unearthed by economist Richard Ebeling, the letters are signed by two economists who became giants of 20th-century thought: Friedrich Hayek and John Maynard Keynes.
Hayek was a leading figure in what became known as the Austrian school of economics. Its theory of the business cycle holds that recessions are primarily caused by government distortions of interest rates and the money supply that lead to imbalances in the supply side of the economy – imbalances that eventually require correction.
Keynes took a different approach. He argued that recessions involve a failure of "aggregate demand," and that public (government) spending is needed to pick up the private slack.
---