Confession of a former cheerleader: It's the noncompetition that made it fun
(Read article summary)
A federal judge has ruled that competitive cheerleading is not a sport. That is likely to disappoint many of the 3.7 million youths involved in cheer, as it probably should. But there's something about noncompetitive cheerleading that is worth holding on to.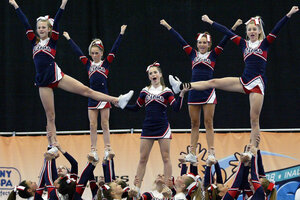 File/Newscom
It was the mid-1990s. I was on a plane traveling back to my job in San Jose, Calif., and was surrounded by bouncy, bubbly, chattering young girls who all seemed to be named Ashley. They looked to be in elementary school.
One of the adults in charge told me they were heading to a cheerleading competition. At this age? I asked. Oh yes, the woman answered. "We've got your pee-wees, and your junior pee-wees." Only it sounded like "pay-ways" and "junior pay-ways," because she was from the South.
Boy, cheerleading is getting seriously competitive, I thought.
Not competitive enough to qualify as a sport, according to a federal judge this week. As a result, the judge ruled that Quinnipiac University in Hamden, Conn., could not use competitive cheering to meet federal gender-equity requirements in athletics.
Quinnipiac had wanted to cut its women's volleyball team for budgetary reasons. It planned to replace it with a competitive cheer squad to comply with Title IX. That's the landmark federal law from 1972 that mandates equal opportunity for men and women in athletics and academics.
A Title IX sport must involve coaches, practices, competitions, and a governing organization. Competition has to be the main goal, not just supporting other athletic teams. Quinnipiac felt it met the definition. It had recently joined with other schools to form a governing body, the National Competitive Stunts and Tumbling Association.
Judge Stefan Underhill, however, looked more universally at cheerleading – practiced by about 3.7 million youths in America. "Competitive cheer may, sometime in the future, qualify as a sport under Title IX," he wrote. "Today, however, the activity is still too underdeveloped and disorganized to be treated as offering genuine varsity athletic participation opportunities for students."
---