The Tim Pawlenty story: Next stop, the White House?
(Read article summary)
At a Monitor breakfast with reporters, the Republican governor from Minnesota points proudly to his roots from working-class St. Paul. As a potential presidential candidate, he breaks the GOP stereotype. Biography matters in politics. But America's in a crunch, and solutions matter more.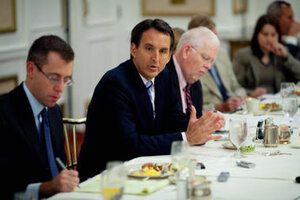 Michael Bonfigli/Special to The Christian Science Monitor/File
Republican Tim Pawlenty, two-term governor of Minnesota, has checked all the right boxes for a 2012 bid for the presidency. That includes today's appearance as a guest at a Monitor breakfast, where he clinked coffee cups with about 40 journalists who cover national politics. This just after a trip to Afghanistan and Pakistan.
Aside from a short time on the short list of John McCain running mates in 2008, Governor Pawlenty is relatively unknown outside the upper Midwest. He's working on changing that though, speaking to conservatives around the country as vice chair of the Republican Governors Association and starting a political action committee. At the breakfast he said he would decide in early 2011 whether to run, and added that his decision will not depend on what Sarah Palin or anyone else does or does not do.
---