National parks in the West still bring surprises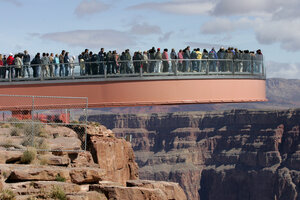 UPI Photo/Art Foxall/NEWSCOM
Driving a rented Chevy Malibu 2,600 miles through three Western states and five national parks last month on a family vacation can't yield a scientific survey of the mood of America. But when you're a news editor usually desk-bound in Boston, it provides a fresh, feet-on-the-ground look at a spectacular part of your country – and a couple of surprises.
And spectacular it is in its landscape, from the lofty grandeur of the Rocky Mountains to the almost indescribable size, shapes, shifting colors, and majesty of the Grand Canyon.
But there was something surprisingly comfortingly in the US West too. Americans were out enjoying their land and its open roads. They were seeing its beauty from SUVs, motorcycles, and three-wheelers, from the "family chariot" (as one Monitor auto reviewer used to call his car) to RVs, many with a big "Rent Me!" sign on the side which also served as a reminder that it might be wise to keep a respectful distance from a driver who isn't used to wrangling such a behemoth.
Partisan political anger, oil spills, Iraq and Afghanistan didn't seem to have room on the agenda of people we met. Only one expressed concern that we might skip Arizona because of the immigration law there. (We hadn't actually given it a thought and were already committed.)
I made a conscious decision not to take along a laptop or smart phone, even knowing that a thousand or so emails would await me on my return. Yes, there was plenty of evidence that others had brought their screens with them. But at least they were acknowledging that the "real" world still needs to be explored in person, along with the virtual worlds online.
---