A-Rod's home run feat: 600 reasons not to care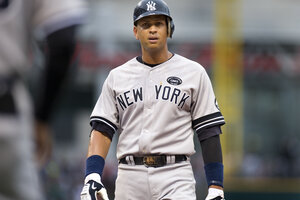 Maggie Wilson / PHOTOlink / NEWSCOM
Alex Rodriguez, A-Rod to you sports fans, finally hit his 600th home run. But has news of a ballplayer passing a major career milestone ever seemed more hollow?
It should be cause for excitement. Only six other players in baseball history have managed the feat. Three are among the most beloved to ever swing a bat: Henry Aaron, Babe Ruth, and Willie Mays. A fourth, Ken Griffey Jr., commands widespread respect too. But Barry Bonds, the all-time home run leader with 762, and Sammy Sosa, well, they're another story.
It's a dark, sad story, one shared by Rodriguez. The legacies of Bonds and Sosa are tainted by accusations that they used illegal performance-enhancing drugs to boost their home-run totals. A-Rod's case is even clearer: He's one of the few ballplayers to have openly admitted to having been drug-enhanced.
After Bonds surpassed the popular Aaron – an African-American who endured racial slurs with dignity and grace in 1976 when he broke Ruth's long-standing home run record – much of the baseball world cringed. But hope was on the horizon. Rodriguez, who at the time was assumed to be drug free, had the youth and ability to someday surpass Bonds and restore respectability to the throne of Home Run King.
---